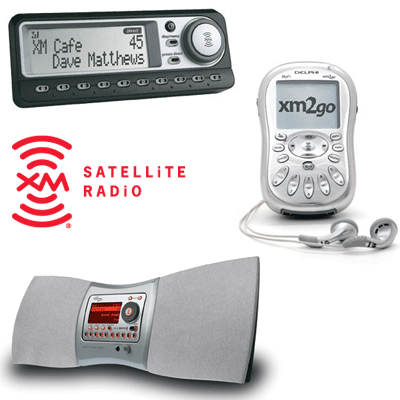 © Sirius XM Radio
Top to bottom: XM Commander in-car receiver, Delphi MyFi personal receiver, Delphi XM SKYFi plug-and-play unit
XM was founded in 1992, but back then they weren't known as XM -- they originally called themselves the American Mobile Radio Corporation. It wasn't until 1997 that the FCC granted the company a digital audio radio service (DARS) license, but soon after the company began signing deals with other electronics organizations to start developing the technology necessary to send satellites up into orbit. In 1998 they officially changed the name to XM Satellite Radio.
XM has two Boeing Satellite Systems International satellites that transmit its signal to cars and homes across the country. The satellites are called Rhythm (XM-3), which launched on Feb. 28, 2005, and Blues (XM-4), launched on Oct. 30, 2006. These two satellites replaced the original XM satellites, Rock (XM-2) and Roll (XM-1), which suffered technical problems and have since been powered down -- though they serve as backups if needed. Rhythm and Blues are positioned in the same relative locations as their predecessors, over the east and west coasts in stationary geosynchronous transfer orbits (see How Satellites Work to learn about orbits). The satellites are powered by two solar-paneled wings.
XM Satellite Radio became available nationwide on Nov. 12, 2001, following the launch of Rock on March 18 and Roll on May 8 of that same year. The company's broadcast center, the origination point for all of its programming, is based in Washington, D.C. XM radios contain a proprietary chipset that decodes an encrypted signal from the satellites and from repeaters on the ground.
The company makes three different types of receivers: home receivers (which range from $30 to $250 - not pictured above), in-car receivers (which range from $40 to $170) and plug-and-play units that work with both home and car audio systems (the Xpress RC and Xpress EX, which cost $170 and $40, respectively). XM was the first company to introduce a personal receiver -- the XM MyFi, which debuted in 2004, held up to five hours of content and could be carried anywhere, similar to an MP3 player. They currently offer three portable models: the XMp3 Radio ($280), the inno ($250) and the SKYFi3 ($110).
Both XM and Sirius boast a list of celebrity personalities in order to entice buyers -- the idea of a favorite artist or television personality hosting his or her own exclusive show might make satellite radio look more appealing than traditional radio. XM's list of personalities includes Bob Dylan, Oprah Winfrey, Ellen DeGeneres, Dale Earnhardt Jr., Snoop Dogg, and Opie and Anthony, among a rotating roster of musicians and other celebrities. In the area of sports, XM exclusively covers Major League Baseball, college football, professional golf and IndyCar, and there are also two separate ESPN channels. The company also carries many of the major news networks, including CNN, CNBC, FOX News, Bloomberg Radio, BBC World Service and The Weather Channel.
Interestingly, according to an Internet survey, XM goes for a broader, more universal appeal with their group of celebrities. While Sirius mainstays like Howard Stern, Martha Stewart, 50 Cent and Eminem received high negative personality scores and were viewed as polarizing, XM's talent had much higher positive appeal; however, Lance Armstrong on Sirius's roster, had the highest positive score among the whole group [source: Hall].
­
Advertisement