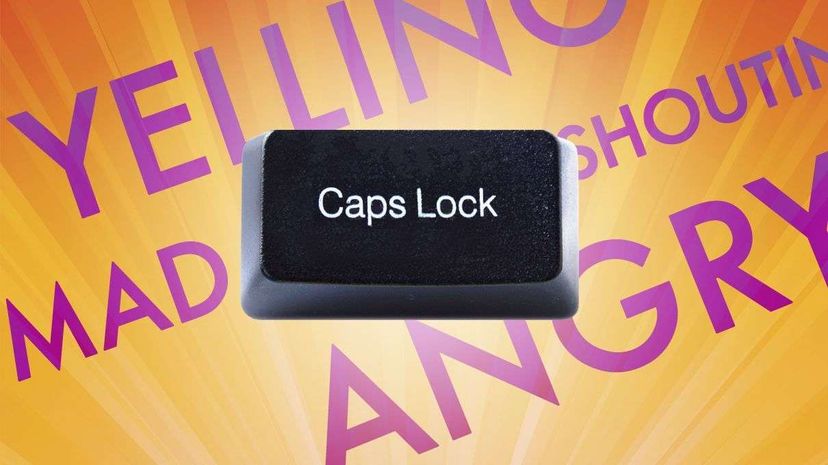 WHAT IF I WROTE THIS ENTIRE ARTICLE IN ALL CAPS? WOULD YOU READ IT? MAYBE IF IT WERE VERY SHORT, BECAUSE YOU'D OBVIOUSLY BE WONDERING, "WHY IS THIS WRITER/MY GRANDPA SO ANGRY?" BUT I BET YOUR CURIOSITY WOULDN'T LAST LONG.
HOW TIRED OF READING THIS ARE YOU RIGHT NOW? PROBABLY PRETTY TIRED.
Sorry, I was shouting — but you knew that.
These days, people use the written word to communicate more than we have in any other period in history. You can make a plan with a friend, discuss the grocery list with your spouse, and negotiate your kid's curfew without having to strain your precious, beautiful vocal cords one bit. But the problem with conversing through the written word instead of face-to-face has to do with tone. In order for your reader to get the full meaning of your 246-character text, you have to use all the tools the QWERTY keyboard has to offer. One of those tools is the caps lock key.
In a two-part series on meh., the daily-deal-retail-site-turned-internet-forum, writer and former typesetter Dave Fleishman explores the evolution of SHOUTY CAPS, and suggests the history of using all capital letters to indicate outrage or very strong, spirited emphasis is much older than our internet forefathers would have us believe.
Capital letters evolved in the Roman Empire where stone cutters made inscriptions on the topmost capitals of monuments and buildings using big, straight letters. The lowercase letters evolved from adaptations of capitals that were written by hand in manuscripts. Eventually there was a crossover where the capital letters wound up being used as big illustrated centerpieces of illuminated manuscripts, and finally the two cases flirted with each other until the deal was sealed around the mid-1400's when the Gutenberg Bible became the first mass-produced book using movable type.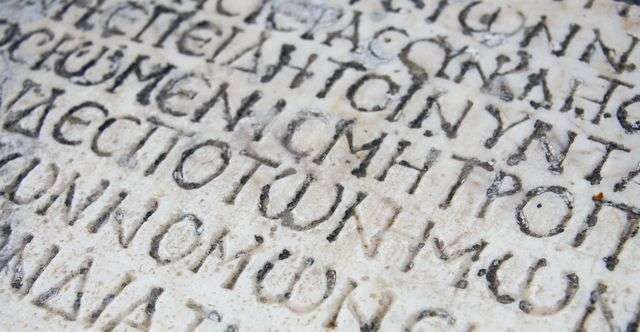 But throughout history, capital letters were used for emphasis: the use of capitals in NO PARKING and NO SMOKING, for instance, lend the messages a certain gravitas. Newspapers used all caps for their headlines until the 1910's, when it was pointed out that capital letters are just plain exhausting to read.
"But there's a difference between shouting and signifying importance," says Fleishman. "I was trying to figure out, was there a historical basis for the convention of using the uppercase to shout? A lot of things are tacit; everyone alive today who uses an online service appreciates that when you use uppercase, you're shouting. But was that true before?"
If you ask early internet users, they'd say modern use of all caps as tantamount to shouting goes back to at least March of 1984, when a guy named Dave Decot, then a computer science student at Case Western Reserve University, wrote in a forum: 
Well, there seem to be some conventions developing in the use of various emphasizers. There are three kinds of emphasis in use, in order of popularity:
                 1) using CAPITAL LETTERS to make words look 'louder',
                 2) using *asterisks* to put sparklers around emphasized words, and
                 3) s p a c i n g words o u t, possibly accompanied by 1) or 2).
This was just after computer terminals switched from all-uppercase to mixed-case keyboards, so when given the option of writing in lowercase or uppercase letters, the early internet decided all caps was great for shouting. However, if you didn't know the implications, using all caps just made you seem old.
"Anybody who persisted in using all upper case even after the switch in computer terminal keyboards seemed fussy and out-of-date because they were still using older terminals or hadn't gotten used to the new system," says Fleishman.
But Fleishman sensed the internet didn't invent uppercase shouting, and after a protracted search, found a reference from an 1856 edition of The Evening Star, a Washington, D.C. newspaper, that recounts the tale of a Dutchman with small pox:
"'I dells you I've got der small pox. Ton't you vetsteh? der SMALL POX!' This time he shouted it out in capital letters."
"That's the smoking gun right there," says Fleishman.
So, now you know and may go about your business, quietly and with good manners. All-caps-as-shouting predates the American Civil War, toilet paper, the machine gun, pencil erasers and postcards.