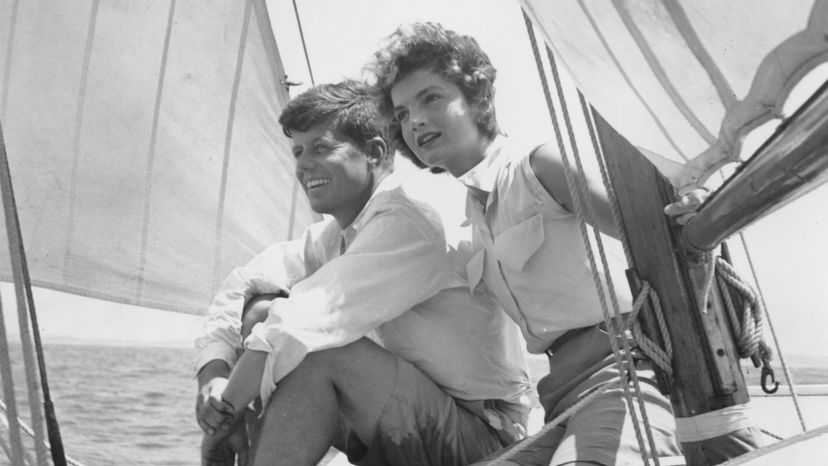 Today's digital cameras capture images in a fraction of a second, and boy, do we take a lot of them. Thanks in large part to the proliferation of smartphones, humans capture unimaginable numbers of images — to the tune of perhaps 1.7 trillion each year. By some estimates, every two minutes our snap-happy selves create more pictures than existed in all the world 150 years ago [sources: Cakebread, Eveleth]. But how many of those pictures are really all that memorable?
Silly pet shots aside, once in a while we humans really do take a few legendary pictures. Eleven construction workers sitting on a crane and the V-J kiss picture at the end of World War II in Times Square are both examples of iconic pictures. But so is the hooded Abu Ghraib detainee standing on a box and connected to electrical wires. And the Chinese dissident standing steadfast in front of a heavy tank in Tiananmen Square. And President John F. Kennedy and various members of his family creating Camelot.
In 1953, John F. Kennedy was an up-and-coming young senator when his father Joseph P. Kennedy invited a sports photographer called Hy Peskin to the family compound in Hyannis Port. The elder Kennedy thought some photographs of the handsome senator and his beautiful fiancé (later wife) Jackie would build his son's career. The picture of the radiant couple on a boat appeared on the cover of the very popular Life magazine and went a long way to introducing Kennedy to a wider audience and setting the stage for his future political ambitions.
Images like these have not only outlasted their photographers, but they've also wormed their ways into our collective cultural consciousness. These two-dimensional pictures have the ability to shake our imaginations and sometimes inspire real change in our three-dimensional world. Here are the stories behind 13 of history's iconic photographs, in chronological order. (Warning: Readers may find a few of the pictures disturbing.)