What's PvP in World of Warcraft?
If you play "World of Warcraft" on a PvP server, player-versus-player activity can be all around you. But as long as you're playing on a normal server, it's possible to spend all your time in "World of Warcraft" without ever fighting against another player. Most of the PvP action takes place in battlegrounds (BGs), arenas and in a few specific outdoor locations in the game world. Participating in any of these areas is completely optional. Unlike quests, which give characters experience, PvP encounters give honor points and tokens, which you can use to buy rewards.
BGs are like instances -- you and a group of players enter a special zone with a specific objective in mind. The game sorts players into BGs according to their level. For example, if you're level 15, you'll go into a battleground with players who are level 10 to 19. Once you get to level 20, you'll be part of the next bracket: 20 to 29, and so on.
The game's arenas all operate according to the same basic rules. Players pay a fee to buy a charter for their team. Teams compete against one another, and the last one standing wins.
The world's four battlegrounds, though, operate under their own sets of rules:
Warsong Gulch (WSG) is a capture-the-flag game. Players try to enter the opposing faction's base, retrieve a flag and return it to their own base. The first team to do this three times wins.
The goal in Arathi Basin (AB) is to gather resources. Players from each faction try to gain control of five resource nodes by clicking on the flag at each node and then defending it from the other faction. As long as a faction has control over a node, that faction collects its resources. The faction that collects 2,000 resources first wins.
Alterac Valley (AV) is a long, snowy zone with a base at each end. Each faction tries to reach the opposite faction's base and kill the general inside. There are other NPC officers that players can kill along the way as well as quests players can complete to reinforce their armor or summon allied NPCs.
Eye of the Storm (EotS) is the only battleground in Outland. It combines capture-the-flag with resource collection. Players try to carry a central flag to each of four towers. As long as a faction controls a tower, it collects that tower's resources. The first team to 2,000 resources wins.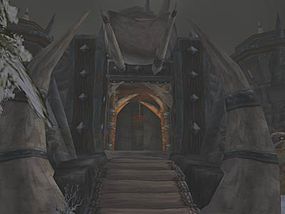 Players can also experience PvP combat by playing on a PvP server or by attacking the other faction's cities. While attacking a city is a legitimate part of the game, most players view the killing of quest givers and vendors as dishonorable. There's also a PvP zone in the "Wrath of the Lich King" continent of Northrend known as Wintergrasp, and many higher-level zones in the game have isolated areas devoted to PvP objectives.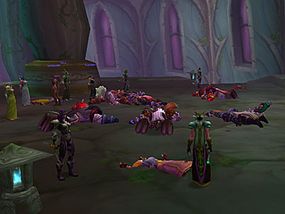 All of this combat comes from an idea that started in the original "Warcraft" games -- the Alliance is at war with the Horde. Next, we'll delve into the origins of "World of Warcraft."