PSP Competitors
Game Boy Advance and Game Boy Advance SP
The Game Boy gaming system from Nintendo comes in two flavors, with the SP version adding rechargeable lithium-ion batteries, a front-lit screen and a new design that features a flip-up panel. Both versions play older Game Boy and Game Boy Color cartridges. The PSP can't play PlayStation or PlayStation 2 games.
The Game Boy Advance has a few accessories designed to integrate the system into Nintendo's product line and add some creative options for game designers. Special cables allow two Game Boys to link together, and a separate cable can create a connection to a Nintendo GameCube. The PSP utilizes a USB 2.0 port for connections to PlayStations, PCs and other devices.
Nokia N-Gage
Finnish mobile telecommunications giant Nokia dove headfirst into the portable gaming arena with the N-Gage, a device that specializes in multi-player gaming. The N-Gage allows users to face off against other N-Gage owners via wireless Bluetooth technology or through Nokia's N-Gage Arena network. The N-Gage is more than a gaming system, though. It can also act as an MP3 player, a cell phone or a wireless Web browser.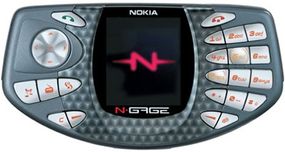 Although Sony plans to add functions that take advantage of wireless technology, the PSP is not the full-fledged, portable multimedia platform that the N-Gage is. The PSP is a system dedicated to gaming.
Nintendo DS
Sony's biggest competition is likely to come from Nintendo's newest portable system, the Nintendo DS. Sporting a retail price of $149.99, the DS features two screens, one of which is a touch-sensitive pad like you'd find on a laptop. The screens can also be used for innovative game design, showing different information on each of the screens.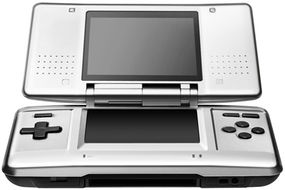 The DS ships with a program for chatting and sharing simple drawings with other users via wireless connections, and many of the DS games have a multiplayer component using WiFi. A separate slot allows the DS to play Game Boy Advance cartridges.
The Nintendo DS is a featherweight when it comes to raw computing power. The PSP is a vastly more powerful gaming machine. The PSP also has that impressive wide screen, which boasts a higher resolution than the screens on the Nintendo DS.
For more information on the PlayStation Portable, other gaming systems and related topics, check out the links below.
Related HowStuffWorks Articles
Partner Links

TV in a Pocket
More Great Links
Sources
DigitalBackSpin: PSP Information http://www.digitalbackspin.com/pspinfo.htm

The Register: Sony Playstation Portable pics pop up on web http://www.theregister.co.uk/2003/11/05/sony_playstation_portable_pics_pop/

Sony PlayStation Press Release: PSP http://www.us.playstation.com/pressreleases.aspx?id=207

IGN: PSP http://psp.ign.com/

Pocket Calculator: Walkman History 101 http://pocketcalculatorshow.com/walkman/history.html

Nintendo Game Boy Advance http://www.gameboy.com/system.jsp

Nokia N-Gage http://www.n-gage.com/en-R1/gamedeck/ngage/index.htm

Cray, Inc. http://www.cray.com

The Register: Sony talks up PlayStation Portable's chips http://www.theregister.co.uk/2004/08/25/psp_chips_revealed/

The Guru of 3D: Sony details PlayStation Portable's chips http://www.guru3d.com/newsitem.php?id=1817

GamesIndustry: Sony reveals PSP translation software, wireless multiplayer http://www.gamesindustry.biz/content_page.php?section_name=new&aid=3776