Have you ever looked at a can of Coke and a can of Pepsi and thought to yourself, "Really, what's the difference?" Some people look at these two products and figure they taste pretty much the same. But many, after some careful taste-testing, can point out the differences between Coke and Pepsi -- most think Pepsi is a little sweeter, while others say Coke has more bite and fizz. They may look and taste similar, but there are a few subtle qualities that set them apart.
The same could be said for satellite radio. You can glance at the list of stations available from the two satellite radio companies, Sirius and XM Radio, and not see much of a difference. Both have lots of channels devoted to classic rock by decade, today's hits, hip-hop, soul and other music genres, mixed in with a hodgepodge of news and talk shows. Does it really matter which one you choose?
The co­mpanies proposed to merge in February 2007, and after more than a year of lobbying, debating and numerous filings, the Federal Communications Commission (FCC) approved the merger on July 25, 2008. Like equal parts Pepsi and Coke, the companies have combined their business operations to form Sirius XM Radio, the only satellite radio service consumers in the United States can access.
There are still subtle differences between XM and Sirius, and despite talk of a universal radio that can access a la carte packages, for the moment you still have to decide between one or the other, and the type of service you choose makes a difference. Each company has their own phalanx of celebrities -- for example, if you're a Bob Dylan fan, you'd probably go with XM; if you want cooking tips from Martha Stewart during your drive, you're better off with Sirius. The sports coverage you enjoy could also affect which satellite service you prefer, as XM and Sirius ally themselves with completely different sports. The closer you look at each service, the more variety you might see.
In this article, we'll compare Sirius and XM technologies and services and find out what the experts have to say about the future of satellite radio.
What is Satellite Radio?
Satellite radio is just what its name suggests: a radio service that uses satellites circling Earth to broadcast its programming. In 1992, the Federal Communications Commission (FCC) allocated a satellite spectrum (the "S" band, 2.3 GHz) for the broadcasting of satellite-based digital audio radio service (DARS). It eventually granted two licenses, one to Sirius Satellite Radio (formerly CD Radio) and one to XM Satellite Radio (formerly American Mobile Radio Corporation). The world's biggest satellite radio provider, 1worldspace, is available in Europe and several other countries but not in the United States.
As the satellites orbit the earth, programs are beamed to them from broadcast stations. The satellites then transmit the signal to special antennas on homes, cars and portable radios. Terrestrial repeaters throughout the country also receive the signal and help ensure that it's transmitted to receivers, especially in areas with tall buildings that might block the signal.
There are two big pluses for satellite radio listeners. First, every channel, whether it's on XM or Sirius, is largely commercial-free, which should appeal to radio listeners tired of having advertisements screamed into their ears while they sit in traffic. Most music channels have no advertising at all. Second, no matter where you are in the continental United States, you get the same reception as long as the skies are relatively clear. Unlike traditional radio, which loses reception once you're too far away from a certain station, satellites ensure you receive a signal no matter where you are in America. A driver could trek all the way from New York City to Los Angeles and never have to change the channel.
For about $13 a month, plus the cost of equipment and a small activation fee, both Sirius and XM listeners can receive more than 100 channels of satellite radio, including music ranging from classical to heavy metal, plus news, sports, talk and entertainment. But there are some notable differences between the two services, too.
The type of technologies used by XM and Sirius differs slightly, and the specific programming offered by both companies can vary, especially when it comes to news, sports and celebrities with contracts for their own shows. On the next two pages we'll take a look at those differences.
What is XM?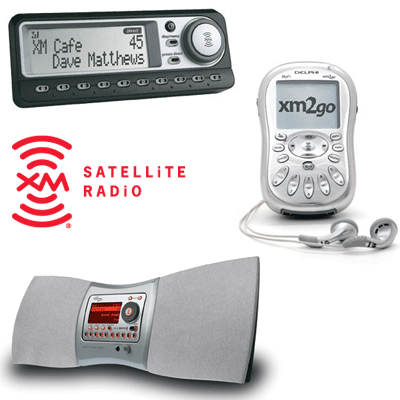 © Sirius XM Radio
Top to bottom: XM Commander in-car receiver, Delphi MyFi personal receiver, Delphi XM SKYFi plug-and-play unit
XM was founded in 1992, but back then they weren't known as XM -- they originally called themselves the American Mobile Radio Corporation. It wasn't until 1997 that the FCC granted the company a digital audio radio service (DARS) license, but soon after the company began signing deals with other electronics organizations to start developing the technology necessary to send satellites up into orbit. In 1998 they officially changed the name to XM Satellite Radio.
XM has two Boeing Satellite Systems International satellites that transmit its signal to cars and homes across the country. The satellites are called Rhythm (XM-3), which launched on Feb. 28, 2005, and Blues (XM-4), launched on Oct. 30, 2006. These two satellites replaced the original XM satellites, Rock (XM-2) and Roll (XM-1), which suffered technical problems and have since been powered down -- though they serve as backups if needed. Rhythm and Blues are positioned in the same relative locations as their predecessors, over the east and west coasts in stationary geosynchronous transfer orbits (see How Satellites Work to learn about orbits). The satellites are powered by two solar-paneled wings.
XM Satellite Radio became available nationwide on Nov. 12, 2001, following the launch of Rock on March 18 and Roll on May 8 of that same year. The company's broadcast center, the origination point for all of its programming, is based in Washington, D.C. XM radios contain a proprietary chipset that decodes an encrypted signal from the satellites and from repeaters on the ground.
The company makes three different types of receivers: home receivers (which range from $30 to $250 - not pictured above), in-car receivers (which range from $40 to $170) and plug-and-play units that work with both home and car audio systems (the Xpress RC and Xpress EX, which cost $170 and $40, respectively). XM was the first company to introduce a personal receiver -- the XM MyFi, which debuted in 2004, held up to five hours of content and could be carried anywhere, similar to an MP3 player. They currently offer three portable models: the XMp3 Radio ($280), the inno ($250) and the SKYFi3 ($110).
Both XM and Sirius boast a list of celebrity personalities in order to entice buyers -- the idea of a favorite artist or television personality hosting his or her own exclusive show might make satellite radio look more appealing than traditional radio. XM's list of personalities includes Bob Dylan, Oprah Winfrey, Ellen DeGeneres, Dale Earnhardt Jr., Snoop Dogg, and Opie and Anthony, among a rotating roster of musicians and other celebrities. In the area of sports, XM exclusively covers Major League Baseball, college football, professional golf and IndyCar, and there are also two separate ESPN channels. The company also carries many of the major news networks, including CNN, CNBC, FOX News, Bloomberg Radio, BBC World Service and The Weather Channel.
Interestingly, according to an Internet survey, XM goes for a broader, more universal appeal with their group of celebrities. While Sirius mainstays like Howard Stern, Martha Stewart, 50 Cent and Eminem received high negative personality scores and were viewed as polarizing, XM's talent had much higher positive appeal; however, Lance Armstrong on Sirius's roster, had the highest positive score among the whole group [source: Hall].
­
What is Sirius?
Sirius Satellite Radio was founded in 1990, and was the first satellite radio service to get an FCC license in 1997. But because of technical problems with its satellites, its first broadcast wasn't until July 2002, nearly a year behind XM. Since then, it has lagged behind its competitor in subscribers, although since 2007 it has almost always posted higher net subscriber gains and often looks to catch up with XM.
­Sirius broadcasts satellite radio from three satellites, which were launched in 2000 from the Baikonur Cosmodrome in the Republic of Kazakhstan. The satellites orbit the Earth in an elliptical constellation, between 15,200 and 29,280 miles above the Earth's surface.
The three solar-powered satellites follow one after the other, so when one passes out of the Northern Hemisphere, for example, another is right behind it to provide uninterrupted transmission. Two ground stations, one in Ecuador and another in Panama, are in constant contact with the satellites.
Sirius offers radios for four environments: car receivers that either work with your car's existing radio or replace it (ranging from $100 to $300), home receivers that work with your home stereo components (ranging from $150 to $2,200), dock-and-play receivers that can go from the car to the home (ranging from $40 to $150) and portable radios that act like MP3 players (ranging from $150 to $280).
Before the two companies merged, XM and Sirius went head-to-head signing radio celebrities, and the most famous -- or infamous -- of these was Howard Stern. With his never ending parade of strippers, porn stars and willing female fans, the shock jock has often been the target of the Federal Communications Commission (see How does the FCC police obscenity?). In 2004, Clear Channel Communications dumped his show over alleged indecency violations. Late that year, Stern announced that he was going to be moving to Sirius, where he was reportedly offered a five-year, $100 million contract. Whereas traditional radio falls under the watchful eye of the FCC, satellite radio has no such restrictions. Like HBO and other pay cable networks, it can air virtually anything, including obscenity, giving Stern virtually free reign in his new home. Whether lawmakers will vote to regulate satellite radio in the future is still unknown, but both XM and Sirius note which programs contain adult content and offer family packages at reduced prices that omit channels with potentially offensive material.
Other personalities that Sirius has on its list are a mix of controversial and universal appeal, including Martha Stewart, Lance Armstrong, Eminem and 50 Cent.
Comparing Satellite Radio Services
Though the two systems are under one corporate entity, Sirius XM Radio has yet to overcome some technical hurdles that would permit them to offer one radio that receives a signal from both systems. For now, subscribers must still choose which package best suits them. So which is better -- Sirius or XM? They both have a similar range of music, news and entertainment programming. Sirius has Howard Stern to bring his raunchy brand of entertainment on board, and its other hosts and celebrities tend to be more polarizing and potentially offensive to listeners, too. Originally, XM had the only personal listening device, but Sirius currently offers portable radios as well. XM is still the clear market leader when it comes to subscribers, but Sirius has invested some significant cash to improve its offerings in order to entice more listeners. In fact, Sirius has continually added subscribers for several years, while XM's customer base has grown at a slower rate. This table shows how the two formats stack up.
Sirius vs. XM




Sirius

XM

Satellites
3 satellites
2 satellites
Programming
130+ channels, including:

69 commercial-free music channels
18 news and talk channels
11 entertainment channels
11 local traffic and weather channels
NFL football, college sports, NBA basketball, soccer, horse racing, golf and NASCAR


170+ channels, including:

70 commercial-free music channels
92 news, sports, talk and entertainment channels
21 traffic and weather channels
Major League Baseball , NBA basketball, NHL hockey, college sports, golf and IndyCar

Highlights
Howard Stern
Martha Stewart
A weekly rock show with skateboarder Tony Hawk
NBA and NFL games
Three video channels
Listen on the Internet for free
Bob Dylan
Oprah Winfrey
Opie & Anthony
Shows hosted by Snoop Dogg, Tom Petty and Quincy Jones
FOX sports radio


Price
$12.95 per month ($16.99, including the Best of XM)
$15 activation fee over the phone; $10 online
$12.95 per month for basic package ($16.99 including the Best of Sirius)
$14.99 ($9.99 online) activation fee
Availability
The continental United States and Canada

The continental United States and Canada

Subscribers
8+ million in 2008
9+ million in 2008
Already Installed
Available installed in many cars, including Chrysler, BMW, Mazda, Mitsubishi, Toyota, Volkswagen and Ford cars
Available installed in a variety of cars, including Audi, GM, Honda, Nissan, Hyundai, Toyota and Porsche models

With the merger, however, it may no longer be a question of which service is better. Both XM and Sirius offer "best of" packages that bundle their regular service with a small handful of popular programs from the other's selection, and both will be required to roll out à la carte options that let customers choose from both company's lists.
The Future of Satellite Radio
Ethan Miller/Getty Images
After several years of rumors and speculation and more than a year of merger talks with the FCC, XM and Sirius became a single satellite radio company on July 25, 2008. But what happens after that?
The biggest questions on XM and Sirius listeners' minds are: Will the two services' equipment be compatible, and will I be able to hear one service even though I have the other? For right now, if you haven't done anything to your existing plan, the answers are mostly no -- a Sirius radio can only receive broadcasts from Sirius satellites, and XM radios can only receive broadcasts from XM satellites.
­To secure merger approval, the two companies had to agree to several conditions. Within nine months of the merger approval, they've promised to put on the market an interoperable device (a tuner that can receive both services). They've also put a three-year price cap on their monthly subscription fees -- both offer their basic packages for $12.95, with slightly more for a "best of" package -- and à la carte subscriptions that let customers pick from both services have become a major priority. In terms of technology development, neither XM nor Sirius is allowed to enter in any agreements that would give a third-party developer exclusive rights to make, market and sell equipment.
Despite these options for customers, the biggest impediment to satellite radio still remains the iPod and other personal music devices, which enable consumers to download and carry around thousands of songs anywhere they go. XM and Sirius have fought back by introducing their own personal satellite receivers, which receive the companies' broadcasts, can hold up to five hours worth of music and can play MP3 files.
Will satellite radio replace your favorite FM stations? Despite its growing popularity, that's not likely, say experts. Traditional radio still boasts more than 200 million listeners -- 50 times more than satellite radio's current subscription base. And although subscription rates have steadily increased over the years, the merger will actually put a significant hold on new membership, since many interested customers will simply wait for the newer interoperable devices to hit the market before committing to one type of radio or the other. In the end, odds are that satellite service will complement free radio, just as cable television now complements the broadcast networks.
For more information on Sirius, XM and related topics, check out the links on the next page.
Related HowStuffWorks Articles
More Great Links
Sources
About.com "Satellite Radio: XM and Sirius."
http://radio.about.com/od/satelliteradio/
Associated Press. "Howard Stern Making Jump to Satellite Radio." MSNBC. Oct. 6, 2004.
http://msnbc.msn.com/id/6190117
Bangeman, Eric. "XM Radio, Sirius announce merger." Ars Technica. Feb. 19, 2007. (Oct. 27, 2008)
http://arstechnica.com/news.ars/post/20070219-8879.html
Bilek, Mark and Glowicki, Jennifer. "Your Ride: Satellite Radio." Consumer Guide Automotive. Feb. 14, 2005.
http://auto.consumerguide.com/Articles/index.cfm/act/featuredarticles/article/
FA_Satellite_Radio.html
Bonsor, Kevin. "How Satellite Radio Works." HowStuffWorks. Sept. 26, 2001. (Nov. 3, 2008)
https://electronics.howstuffworks.com/satellite-radio.htm
Bylund, Anders. "XM vs. Sirius: this is serious." The Motley Fool. July 31, 2007. (Oct. 27, 2008)
http://www.fool.com/investing/high-growth/2007/07/31/xm-vs-sirius-this-is-serious.aspx
COMTEX News Network."Sirius XM gives listeners the choice to customize programming." Oct. 2, 2008. (Oct. 27, 2008)
http://investor.sirius.com/ReleaseDetail.cfm?releaseid=338100
The Crutchfield Advisor. "SIRIUS Satellite Radio."
http://www.crutchfieldadvisor.com/ISEO-rgbtcspd/learningcenter/car/satellite_sirius.html
Hall, Steve. "In satellite radio, all celebrities are not created equal." Adrants. April 26, 2006. (Oct. 27, 2008)
http://www.adrants.com/2006/04/in-satellite-radio-all-celebrities-are-no.php
Lasar, Matthew. "FCC discloses logic behind its approval of XM-Sirius merger." Ars Technica, Aug. 6, 2008. (Oct. 27, 2008)
http://arstechnica.com/news.ars/post/20080806-fcc-discloses-logic-behind-its-approval-of-xm
-sirius-merger.html
Lasar, Matthew. "Sirius/XM merger approved with new conditions (updated)." Ars Technica. July 28, 2008. (Oct. 27, 2008)
http://arstechnica.com/news.ars/post/20080728-sirius-and-xm-satellite-radio-will-merge
-with-new-conditions.html
McIntyre, Douglas. "Sirius gets more subscribers, but no merger." BloggingStocks. Jan. 4, 2008. (Oct. 27, 2008)
http://www.bloggingstocks.com/2008/01/04/sirius-siri-gets-more-subscribers-but-no-merger/
Norton, Patrick. "Sirius Satellite Radio." PC Magazine, Jan. 8, 2005.
http://www.pcmag.com/article2/0,1759,1749570,00.asp
Phan, Monty. "Sirius CEO says he talked with Steve Jobs about iPod deal." Knight Ridder/Tribune Business News. Feb. 10, 2005.
Sirius Satellite Radio
http://www.sirius.com/
Stone, Brad. "Sirius Satellite: Making Waves." Newsweek. Nov. 29, 2004.
http://www.msnbc.msn.com/id/6539284/site/newsweek/
Streisand, Betsy, "Radio Shock Waves." U.S. News & World Report. February 14, 2005, page 50.
The Tech Zone. "Sirius Satellite Radio vs. XFM Satellite Radio."
http://www.thetechzone.com/%3Fm=show%26id=179
Walker, Teresa M. "Satellite Radio Growth Views Stir Concern." The America's Intelligence Wire. Feb. 19, 2005.
Warren, Tamara. "Auto Industry Turns up Satellite Radio Volume." Automotive News. Feb. 14, 2005.
Woolley, Scott. "Freedom of Speech on Satellite." Forbes.com. Oct. 6, 2004.
http://www.forbes.com/services/2004/10/06/cx_sw_1006stern.html
XM Radio Corporate Information.
http://www.xmradio.com/corporate_info/corporate_information_main.html
­