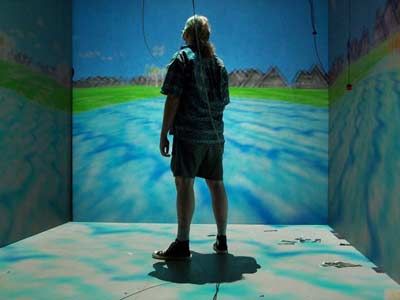 The CAVE system is one of the most immersive display systems for virtual reality environments. Learn all about virtual reality gear and its applications on the next pages.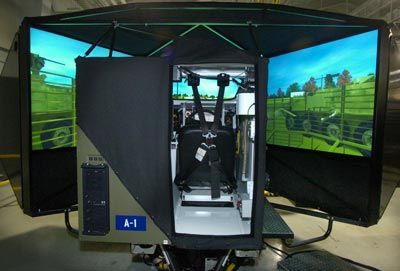 Photo courtesy of the U.S. Army, photo by Jason Kaye
The future combat system is a networked battle command system used by the military. This virtual reality simulator helps teach soldiers how to drive the Stryker armored vehicle. See another virtual military tool next.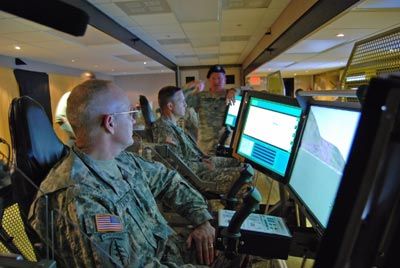 Photo courtesy of the U.S. Army, photo by Eamonn Bourke
Military flight simulators are the most well-known simulators the military uses. Virtual reality is also popular for games. See the next page to learn more.
This boy is playing a holographic game that incorporates virtual reality. You might already be playing virtual games at home. See the next page to find out.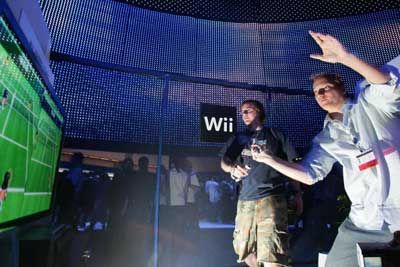 Wii Sports makes active motion entertaining. The controller senses the arm motions of its user to create virtual actions. Here, two people play tennis. Take a closer look at a virtual reality headset next.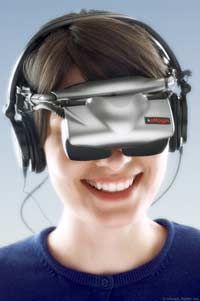 Courtesy of Atticus Graybill of Virtually Better, Inc.
Head-mounted displays are computer monitors that you wear on your head. Most are mounted in a helmet or a set of goggles. Take a look at a virtual reality glove next.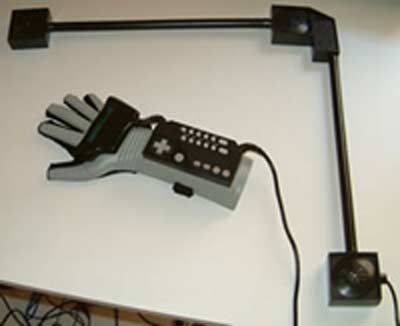 Courtesy of GNU Free Documentation License
The dexterous hand master uses sensors attached to each finger joint, enabling the glove to be like an exoskeleton. These gloves are more accurate than either fiber-optic gloves. See what virtual reality clothes look like next.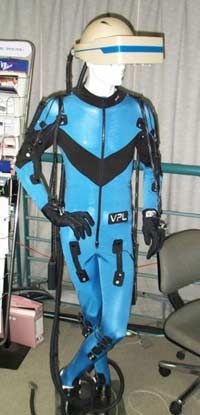 This DataSuit interprets user motions, translating them into actions within a virtual environment. Take a look at a virtual reality input device next, which might remind you of a hamster.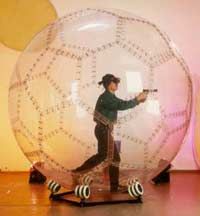 The VirtuSphere lets users run in any direction they choose. Other virtual reality input devices include treadmills and pressure mats, and allow virtual experiences without using a wand or joystick. See a popular game that uses the pressure mat next.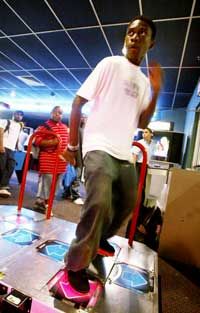 "Dance Dance Revolution" and other active video games use pressure mats. See medical applications of virtual reality on the next page.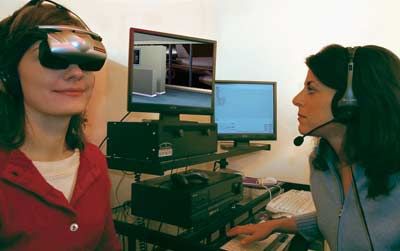 Photo courtesy of Virtually Better, Inc.
Virtual medicine was developed to try and help the millions of people that suffer from phobias. A virtual reality unit simulates situations that cause anxiety in phobia patients. See another example on the next page -- hopefully you don't have this phobia!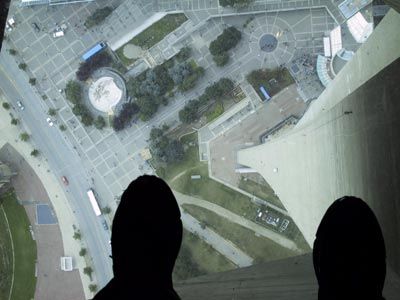 Photo courtesy of Virtually Better, Inc.
Virtually Better may create an environment such as this to help patients overcome their fear of heights. Next, see how virtual reality can be used in sports.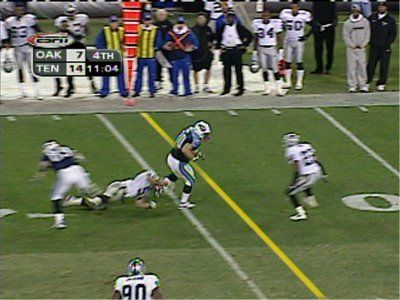 Photo courtesy SporTVision
The virtual first-down line that you see in many televised football games is computer-generated and incorporates a virtual field modeled from measurements of the actual field (taken before the game). See another virtual computer tool on the next page.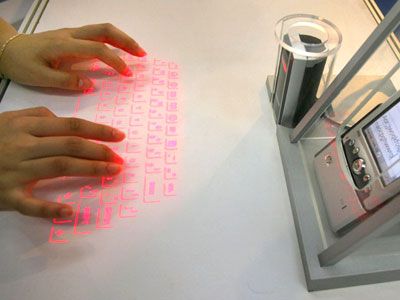 Photo by China Foto Press/Getty Images
Laser virtual keyboards connect to smartphones, PDAs and other handheld devices, projecting a larger keyboard onto flat surfaces. See what a virtual band looks like next.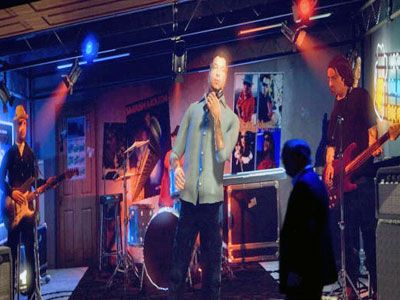 Photo by David Paul Morris/Getty Images
Paul Otellini, Intel president and CEO, watches a virtual performance of the band Smash Mouth during the 2008 International Consumer Electronics Show. To learn more, see How Virtual Reality Works.