1
We're Stuck on Ourselves
Journalists test out the Apple Watch in the Apple Store in Berlin in 2015.
© Kay Nietfeld/dpa/Corbis
Advertisement
If you watch enough online promotional videos for wearable gadgets, you start to notice a trend. The people using these devices are all attractive, healthy, single professionals in their mid-20s living in well-gentrified pockets of San Francisco and New York with ample free time and disposable income.
It's as if the folks developing wearable technology are stuck on themselves, unable to see past their own pet concerns – mostly feeling good, looking good and achieving their maximum potential – to some the broader health problems plaguing society.
Writer J.C. Herz asks an intriguing question in Wired magazine: Is wearable technology failing the people who need it most? What if this biometric technology was put into the hands – and on the bodies – of people suffering with chronic health conditions like diabetes? It's not as sexy as a shoe clip that automatically calls Uber when you click your heels three times (yes, that's a real gadget), but we might actually save some lives. Forty percent of American adults with a chronic disease track their health indicators – and because of what's at stake, they won't stop doing it the way a weekend athlete might. The real money (and potential), Herz says, is in wearable medical devices rather than fitness trackers.
Author's Note: 10 Things Wearables Have Taught Us About Ourselves
I'm a late adopter by nature. You'll never see me waiting in line outside the Apple Store when a new must-have gadget debuts. It's not that I don't love technology. The truth is, I was burned once. When I was 12, I got it into my head that girls would take me more seriously if I carried an electronic pocket organizer. (This was during the same unfortunate period that I took to wearing Drakkar Noir cologne and a gold chain.) I saved up for a year to buy this high-tech wonder that could store all of my friend's phone numbers – all six of them – tell me the time in Paris, and keep track of my busy social schedule. Like an idiot, I left it in my locker one day during lunch and returned to find my bookbag swiped and the prized pocket organizer with it. So now I flinch at the thought of throwing down hundreds of bucks on an unproven device that may eventually break my heart. Better to wait two years until the new model comes out and pick up some bargains on Craigslist.
Related Articles
More Great Links
Sources
Casio. "January 1984: Release of Databank Telephone Number Storage Wristwatch." (March 13, 2015) http://world.casio.com/corporate/history/chapter02/contents09/

Cleveland Clinic. "Keep a Food Journal." (March 13, 2015) http://my.clevelandclinic.org/health/healthy_living/getting_fit/hic_Maintaining_a_Healthy_Weight/hic_Keep_a_Food_Journal

The Economist. "The Fuss Over Wearables." March 11, 2015 (March 13, 2015) http://www.economist.com/blogs/economist-explains/2015/03/economist-explains-9

Fitbit. "How do I track my calories, make a food plan, and set a weight goal?" (March 13, 2015) http://help.Fitbit.com/articles/en_US/Help_article/How-do-I-track-my-calories-make-a-food-plan-and-set-a-weight-goal/?l=en_US&c=Topics%3AFood_Calories&fs=Search&pn=1#FoodPlanDef

Gandhi, Neha. "7 Myths About Bad Posture, Busted." Fitness Magazine. (March 13, 2015) http://www.fitnessmagazine.com/health/7-myths-about-bad-posture-dispelled/

Herz, J.C. "Wearables Are Totally Failing the People Who Need Them Most." Wired. Nov. 6, 2014 (March 13, 2015) http://www.wired.com/2014/11/where-fitness-trackers-fail/

Interbrand. "Ready Set Rocket & Interbrand Team Up at 2015 SXSW." Feb. 20, 2015 (March 13, 2015) http://www.interbrand.com/en/newsroom/48/ready-set-rocket-interbrand-team-up-at-sxsw

Jawbone. "The UP System." (March 13, 2015) https://jawbone.com/up

Jones, Jeffrey. "In U.S., 40 Percent Get Less Than Recommended Amount of Sleep." Gallup. Dec. 19, 2013 (March 13, 2015) http://www.gallup.com/poll/166553/less-recommended-amount-sleep.aspx

Kelion, Leo. "CES 2015: GoBe Calorie Counter Wearable Put to the Test." BBC News. Jan. 5, 2015 (March 13, 2015) http://www.bbc.com/news/technology-30681002

Kronos. "Kronos Survey Indicates Workers Around the World are Poised to Embrace Wearable Technology." Oct. 27, 2014 (March 13, 2015) http://www.kronos.com/pr/kronos-survey-indicates-workers-around-the-world-are-poised-to-embrace-wearable-technology.aspx

Ledger, Dan. "Inside Wearables – Part 2." Endeavour Partners. July 2014 (March 13, 2015) http://endeavourpartners.net/assets/Endeavour-Partners-Inside-Wearables-Part-2-July-2014.pdf

Metz, Rachel. "Google Glass is Dead: Long Live Smart Glasses." MIT Technology Review. Nov. 26, 2014 (March 13, 2015) http://www.technologyreview.com/featuredstory/532691/google-glass-is-dead-long-live-smart-glasses/

National Sleep Foundation. "How Much Sleep Do We Really Need?" (March 13, 2015) http://sleepfoundation.org/how-sleep-works/how-much-sleep-do-we-really-need

Nike. "Explore the Power of NikeFuel." (March 13, 2015) http://www.nike.com/us/en_us/c/nikeplus/nikefuel

Nike. "Summer of NikeFuel." (March 13, 2015) https://www.nike.com/cdp/justdoit/summerofnikefuel/summerofnikefuel/leaderboard/

PricewaterhouseCoopers. "The Wearable Future." 2014 (March 13, 2015) http://www.pwc.com/us/en/industry/entertainment-media/publications/consumer-intelligence-series/assets/PWC-CIS-Wearable-future.pdf

Time. "The 25 Best Inventions of 2014: The Chip That Stops Your Slouching." Nov. 20, 2014 (March 13, 2015) http://time.com/3594971/the-25-best-inventions-of-2014/item/the-chip-that-stops-your-slouching/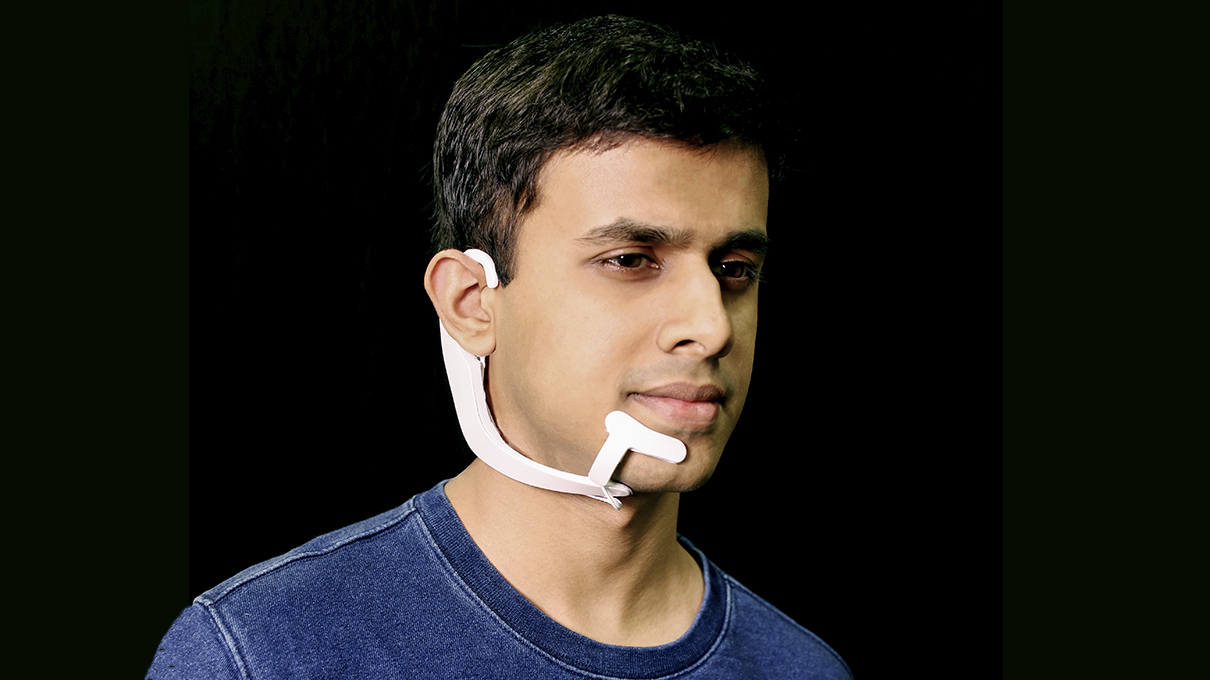 Up Next
MIT's AlterEgo allows people to control computers without ever uttering one word. HowStuffWorks looks at how this could change the way we communicate.
---