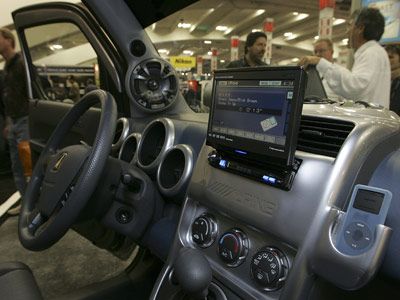 Photo by Justin Sullivan/Getty Images
Today, audio gadgets can do much more than just play sound through speakers. We'll start with some accessories for iPods and other MP3 players. This Alpine iPod dock allows an iPod to interface with a car's stereo.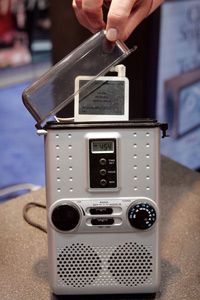 Photo by Scott Olson/Getty Images
Another iPod accessory, the Aquadock, makes an iPod water and dust resistant. It also includes speakers and a radio.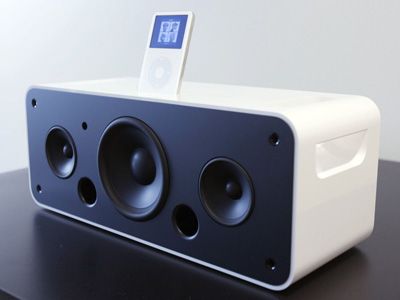 Photo by Peter DaSilva/Getty Images
A hi-fi speaker system designed for the iPod is displayed at a special Apple event.
Photo by Ethan Miller/Getty Images
These are limited edition Element Skateboard Vestalife Ladybugs. Their speakers flip out like wings, and they have a built-in subwoofer and digital amplifier.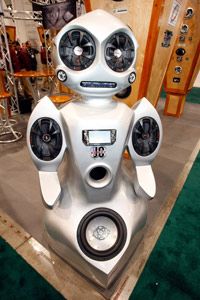 Photo by Ethan Miller/Getty Images
Another speaker set that takes an interesting shape is the Where's JC robot from JC Power Audio Systems. The robot features a variety of speakers and can play audio or video content from CDs, DVDs or via USB.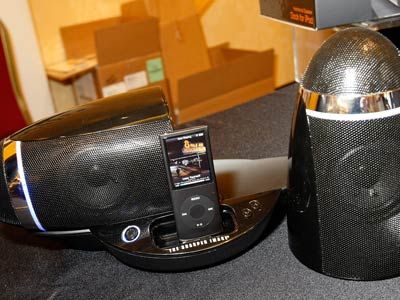 Photo by Ethan Miller/Getty Images
Made by The Sharper Image, this wireless speaker system and dock for iPods has a 150-foot range.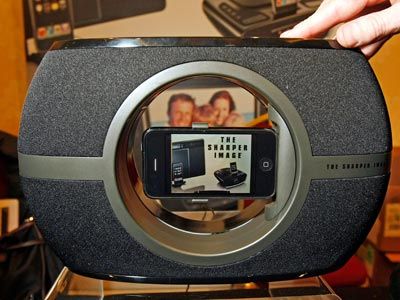 Photo by Ethan Miller/Getty Images
This motorized iPod speaker system is from The Sharper Image. The motors allow users to shift the iPod from vertical to horizontal in order to watch videos more easily.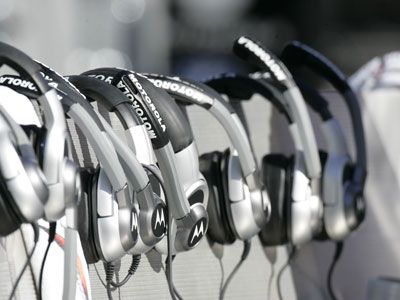 Photo by Ronald C. Modra/Sports Imagery/Getty Images
Now, we'll move from speakers to headsets. These headsets rest on a rack during an NFL game and allow coaches too communicate as the game progresses.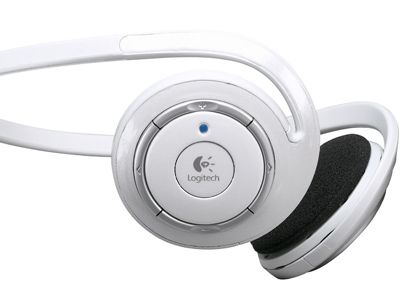 Photo by Logitech via Getty Images
This Bluetooth headset is made for use with iPods. It's rechargeable and features built-in controls.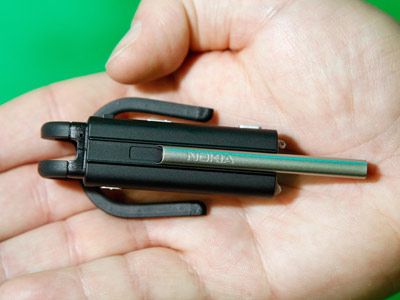 Photo by Ethan Miller/Getty Images
A Nokia BH-904 Bluetooth headset is displayed at the 2009 International Consumer Electronics Show. Designed to be used with a cell phone, the headset features a sliding boom and dual microphone, and it provides five hours of talk time from a 15-minute charge.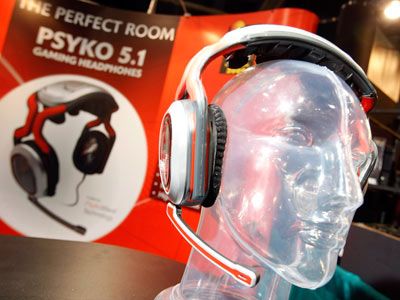 Photo by Ethan Miller/Getty Images
Other headsets allow gamers to communicate with one another as they play. This 5.1-surround-sound headset from Psyko Audio Labs is designed for PC gaming.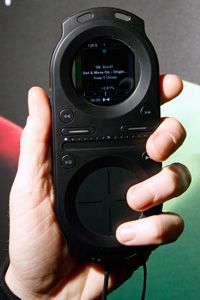 Photo by Ethan Miller/Getty Images
Swedish company Tonium produces this Pacemaker portable DJ system, which is a portable mixer.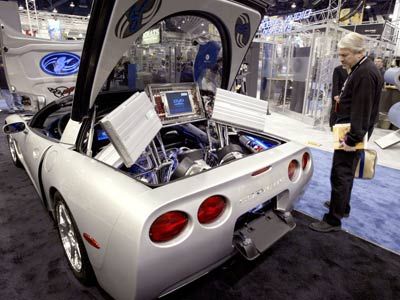 Photo by Justin Sullivan/Getty Images
An increasing number of cars are coming with impressive audio options built in. Here, a man inspects a custom Corvette outfitted with Stinger high-performance audio equipment.
Photo by Jeffrey Langlois/Getty Images
The custom interior of a car, including an array of speakers, is displayed during the Fast and the Furious Music Tour. To learn more, see the Name the Price: Music Gadgets Quiz.