Batteries power innumerable objects in our world and are becoming more "green" every day. Take a look at the history, technologies and environmental concerns surrounding these everyday powerhouses.
The Energizer company claims that it introduced this PP3, or 9-volt battery, in 1956. It developed in conjunction with portable transistorized radio receivers. Today, batteries are common in personal electronics, like the iPod battery on the next page.
The iPod Shuffle's PCB back contains a lithium-ion polymer battery. With recent technology, see how fast the lithium-ion battery on the next page can be recharged.
YOSHIKAZU TSUNO/AFP/Getty Images
An employee of Toshiba displays a new Lithium-ion battery 'SCiB' (Super Charge ion Battery), which can recharge to 90 percent of full capacity in less than five minutes. You can barely see the ultra-thin battery on the next page.
TOSHIFUMI KITAMURA/AFP/Getty Images
A NEC employee shows off a sample of new ultra-thin, flexible, rechargeable Organic Radical Battery. See the top of this battery next.
TOSHIFUMI KITAMURA/AFP/Getty Images
NEC says that its Organic Radical Battery is capable of super-fast (30-second) charging and can be embedded into smartcards and intelligent paper. The battery on the next page can be powered by a breakfast item.
Ethan Miller/Getty Images
A battery with a dropper containing orange juice is displayed at the 2008 International Consumer Electronics Show. The batteries are powered by a drop of any liquid, alcohol and saliva and do not harm the environment like the batteries on the next page.
SAM PANTHAKY/AFP/Getty Images
An Indian laborer breaks battery cells with a hammer to extract aluminum that can be sold. Batteries that are not properly disposed of can leak dangerous substances in ground water, soil and air. See Mexico's discarded batteries next.
OMAR TORRES/AFP/Getty Images
A Greenpeace activist empties a bucket of used batteries in front of the Environment Secretary building in Mexico City to bring awareness to how they pollute the water. The next battery hazard is in Scotland.
Christopher Furlong/Getty Images
A discarded car battery litters the beach at Prestwick, Scotland. Used car batteries may leak acid and are full of lead, which is an environmental hazard. See the creative way China is looking to improve proper battery disposal next.
China Photos/Getty Images
Volunteers put waste batteries together to form Chinese characters which read, 'Environment Protection' to promote the control of urban pollution in Beijing, China. See what large store has been a leader in recycling electronics and batteries next.
A plastic tube contains batteries for recycling inside a Staples store. Staples was the first to begin recycling old items such as cell phones, pagers and handheld devices. You won't have to recycle the battery on the next page for a long time.
Koichi Kamoshida/Getty Images
A model introduces Panasonic's new alkaline battery 'EVOLTA' series. The new AA alkaline battery sets a Guinness World Record for the longest service life. See the smallest fuel laptop battery on the next page.
Koichi Kamoshida/Getty Images
The world's smallest fuel battery made for use in laptop computers is seen next to a coin at Casio's headquarters. This fuel cell is expected to operate for 8-16 hours. The laptop battery on the next page is made from a Proton Exchange Membrane.
YOSHIKAZU TSUNO/AFP/Getty Images
An engineer of Casio Computer displays a prototype of the Proton Exchange Membrane (PEM) fuel cell battery unit for notebook computers. It extends battery life four times. You can play 60 hours of music with the next battery.
YOSHIKAZU TSUNO/AFP/Getty Images
Toshiba employee Hiroko Mochida displays a prototype model of an audio player powered by a direct methanol fuel cell battery. It can play 60 hours with a single 10ml charge of methanol. Or, use your cell phone 10 times longer with the next battery.
YOSHIKAZU TSUNO/AFP/Getty Images
Japan Steel Works displays a prototype fuel cell extra battery for a cell phone. Its canister stores hydrogen, which enables the handset to be used 10 times longer than with dry AA batteries. Or power your headset with the smallest methanol battery next.
YOSHIKAZU TSUNO/AFP/Getty Images
Toshiba unveils the world's smallest direct methanol fuel cell (DMFC) battery developed for small electronic devices such as digital audio players and wireless headsets. See what battery can recharge almost completely in one minute on the next page.
TORU YAMANAKA/AFP/Getty Images
An employee of Toshiba Corporation checks prototype batteries during a demonstration. Toshiba recently developed the prototype battery that recharges 80 percent of capacity in one minute. See what leader holds a rechargeable hybrid car battery next.
JIM WATSON/AFP/Getty Images
U.S. President George W. Bush (R) holds a hybrid battery as he talks with engineers during a tour of the the Johnson Controls Battery Technology Center. Look at the Ford Escape Hybrid car battery in the next picture.
A rechargeable battery is seen in the cargo area of a new Ford Escape Hybrid SUV. See where the battery pack is stored on the 2007 Chevy Volt concept vehicle next.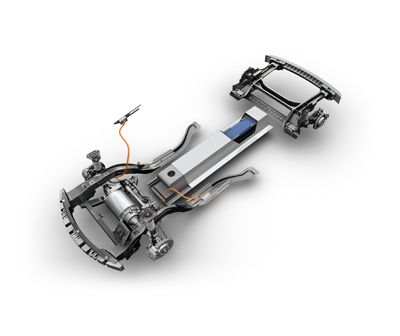 This 2007 Chevy Volt concept vehicle chassis clearly shows the location of the vehicle's lithium-ion battery pack (in blue). Learn more with How Batteries Work.