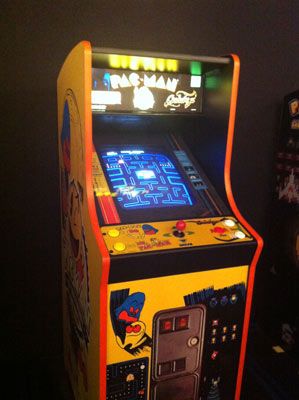 The Electronic Entertainment Expo is all about the latest games and gadgets, but there's room for nostalgia on the show floor, too. This "Pac-Man" machine was part of a retro arcade set up for attendees to take a quarter-driven trip down memory lane.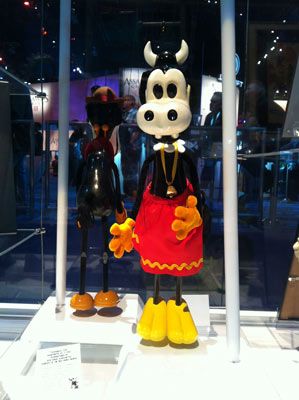 This Clarabelle Cow puppet was part of a curated collection of old-school Disney memorabelia on display at the Disney Interactive booth.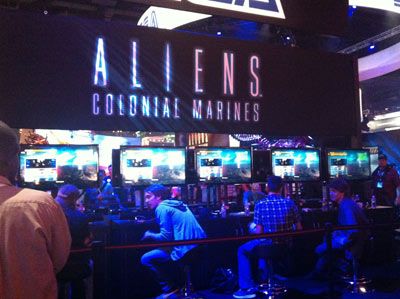 The play area for "Aliens: Colonoal Marines" stayed busy all week long. Sega delighted fans of the franchise by providing a power loader photo op on the show floor as well.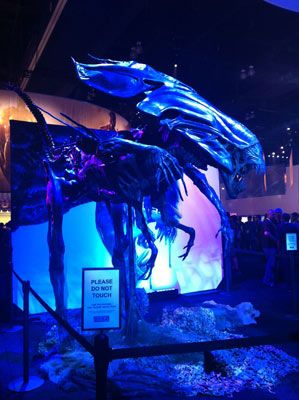 One of the original alien queen puppets from "Aliens" was also on hand to wow show attendees. She doesn't look a day over 25.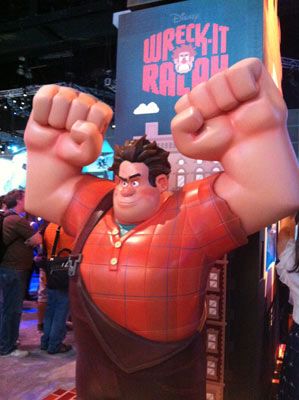 Disney decided to release the first official trailer for its upcoming film "Wreck-it Ralph" during E3, since the game is based on characters from an old arcade game called "Fix-it Felix, Jr."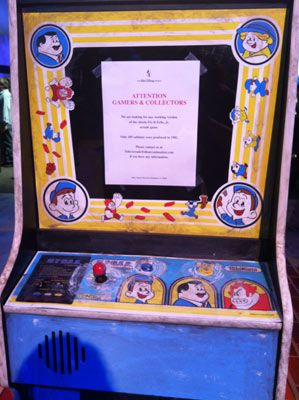 Speaking of "Fix-it Felix, Jr.," Disney also had an open request out to all game collectors, asking anyone with an original "Fix-it Felix, Jr." game to contact them, presumably for a restoration project.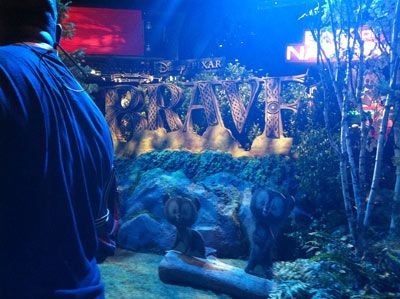 Disney Interactive had a demo area for their upcoming game that ties in with "Brave," but since the movie was not yet released, only a very limited portion of the game could be seen. The booth area was completely styled as a magical Celtic glade.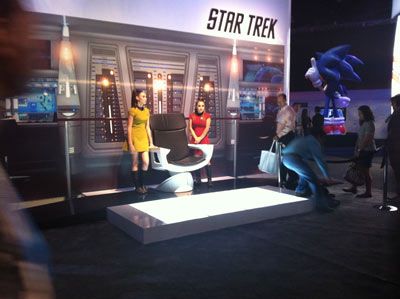 To stoke interest in the new "Star Trek" game that's under development, fans could have a photo op in the captain's chair, complete with crew accompaniment. The game features co-op play as Kirk and Spock, and features the Gorn as the primary enemy.
Sega always has a giant Sonic on hand to silently judge show attendees.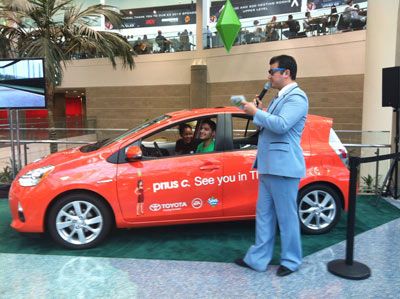 To promote "The Sims" and their tie-in with the Toyota Prius, EA hosted a trivia show in the convention center.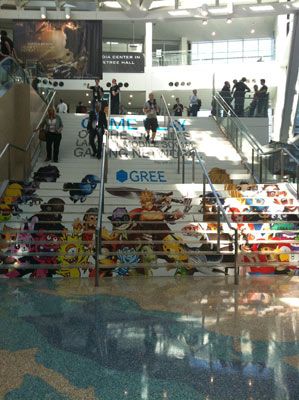 Gree, which touts itself as the world's largest social gaming network for mobile platforms, had a large-scale booth at the show. The company also took over one of the convention center's staircases to get their name out.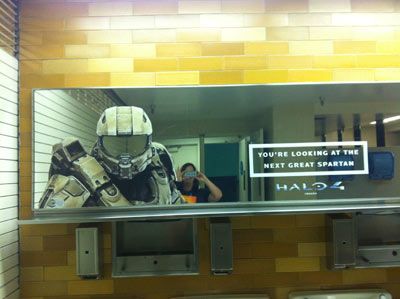 Even the bathroom is ad space. Over the sinks in the ladies' room, "Halo 4" promos greet attendees as they wash their hands.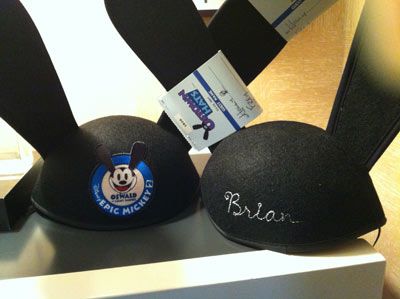 Mickey ears are so last season. Show goers patient enough to wait an hour (or more) in line were rewarded with Oswald the Lucky Rabbit ears at the Disney Interactive "Epic Mickey 2" booth -- complete with embroidered names on the back.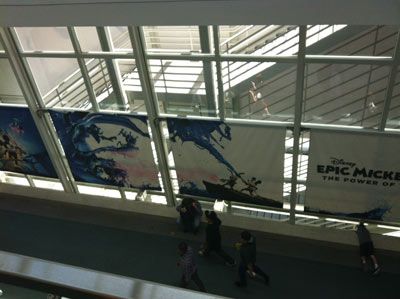 The banner promotions for "Epic Mickey 2" were indeed epic, stretching along full corridors connecting the show halls of the Los Angeles Convention Center.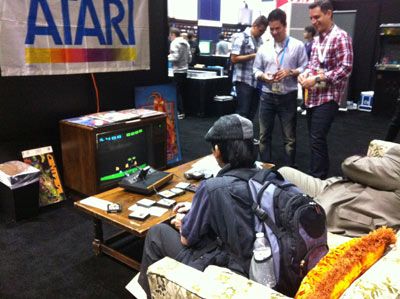 There was even a fully-realized 1980s living room for attendees to rest and play old-school Atari games, courtesy of the Video Game History Museum.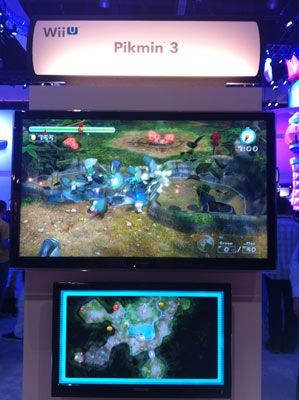 Nintendo was running display screens on the outside wall of its booth, so passers-by could see the games being played inside, and how the Wii U splits the experience between the TV screen and the game pad.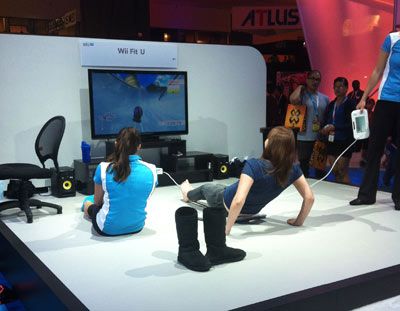 "Wii Fit" is getting a makeover for release as "Wii Fit U," but it still promises to challenge you with core exercises and fitness-oriented games. And of course, those daily weigh-ins remain.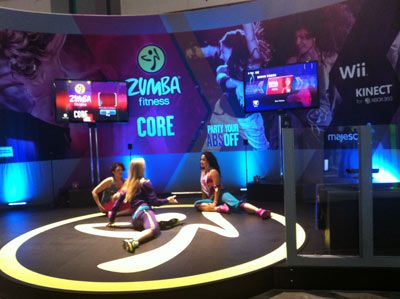 Majesco showed off its new "Zumba Fitness: Core" title for Wii and Microsoft Kinect for Xbox 360. Here, the trainers get warmed up to lead visitors through their core-strengthening workouts.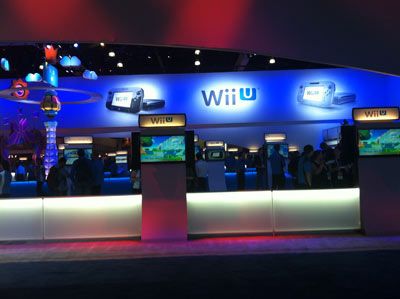 First thing in the morning, it's possible to get a glimpse of the Nintendo booth before it becomes a crush of people testing new Wii U and Nintendo DS titles.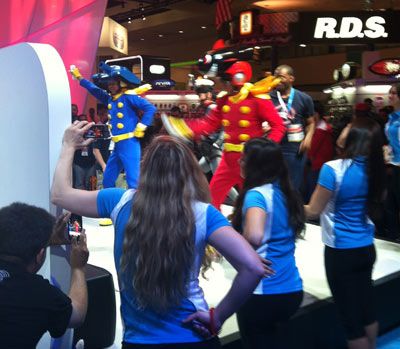 The guys from "Tanks! Tanks! Tanks!" visit the Nintendo booth to shake it along with "Just Dance 4" for the Wii U.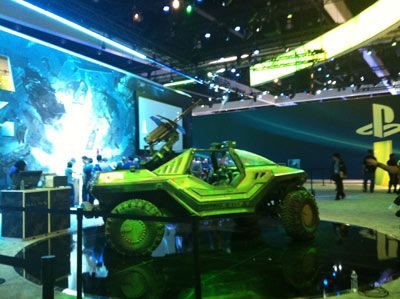 At Microsoft's "Halo 4" area, a full-sized Warthog greeted fans as they eagerly jockeyed for a glimpse of the newest title in the series.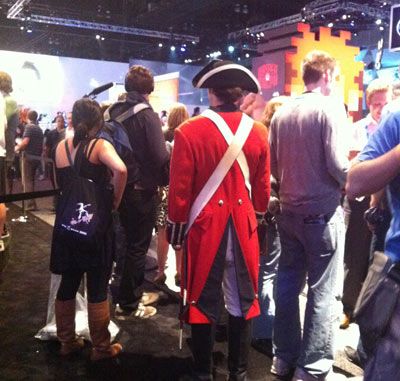 Oh, the sights you can see at E3! Thanks to the latest offering in the "Assassin's Creed" series, errant Revolutionary War Redcoats were wandering the show floor.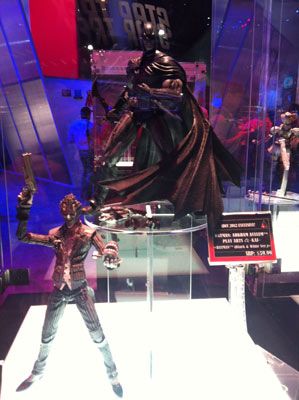 It's not all games! These statuettes of Batman and the Joker were on display for pre-order -- they'll be a San Diego Comic-Con exclusive.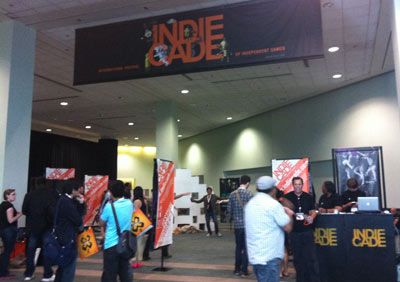 IndieCade is a collective of small independent game companies that pool their resources to share one large booth. The atmosphere here is always fun, and there are lively demonstrations of cutting-edge multiplayer activities throughout each day.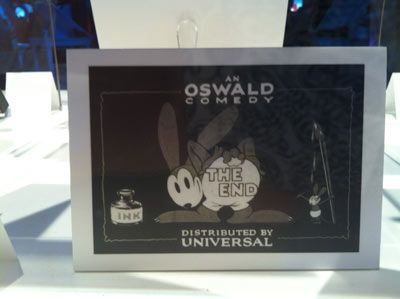 Alas, every show has to end, and E3 is no different. At least we had some vintage Oswald to send us off in style.