CES: Moving Data
While enormous TVs, running robots and massaging chairs are eye-catching, some of the products on display at CES are interesting because of their inherent usefulness. Here are a few.
Belkin Easy Transfer Cable for Windows Vista
According to reports, people may be slow to embrace the new Windows operating system when it makes its consumer debut at the end of January. But for those who decide to go all the way and upgrade their PC as well as their OS, Belkin has developed an easy way to get data from one place to the other. The Belkin Easy Transfer Cable can connect a computer running Windows XP to one running Vista. It can then automatically move files at transfer speeds of 480 Mbps. A 30-GB transfer takes about an hour, and the cable can also move data between two PCs running Vista.
Belkin Flip DVI-D
Another device for people with more than one computer is Belkin's Flip DVI-D switch, can connect one DVI monitor to two computers. A remote control lets you switch the display from one computer to the other, and it works with Mac or Windows operating systems.
D-Link Media Lounge Wireless Media Player
Downloading movies and music to a computer has become remarkably easy. For some people, streaming video and downloads from the iTunes Music Store have nearly replaced over-the-air and cable broadcasts. But sometimes, getting those files to play on a television can be a chore that requires moving computers, sorting through cables and putting everything back the way it was when you're done watching.
The D-Link Media Lounge can simplify all that by making the process wireless. It uses 802.11n wireless networking to transfer data from a computer to a TV set. Its unobtrusive set-top box shouldn't get in the way and can be operated using a remote control. The Media Lounge should be available in stores in the second quarter of 2007.
Canon DC50 DVD Camcorder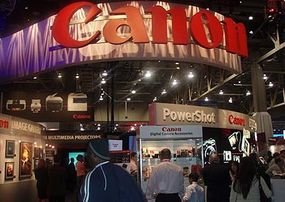 In the past few years, digital camera manufacturers have made it easy to get pictures from cameras to computers. Docking printers have also made printing photos straight from a camera a snap. But this trend in getting digital files into an easy-to-use storage format has been a little slower to reach some digital camcorders.
But Canon's new 5-megapixel camcorder records still or moving pictures straight to DVDs. The camera doesn't sacrifice features for convenience -- it comes with a 10x optical zoom lens, image stabilization, and built-in flash and red-eye reduction. It uses 3-inch DVD-R/-RW discs; single-layer discs can hold an hour of footage.
HowStuffWorks will cover lots of this new technology in more detail as new products hit the market. Stay tuned to learn more.