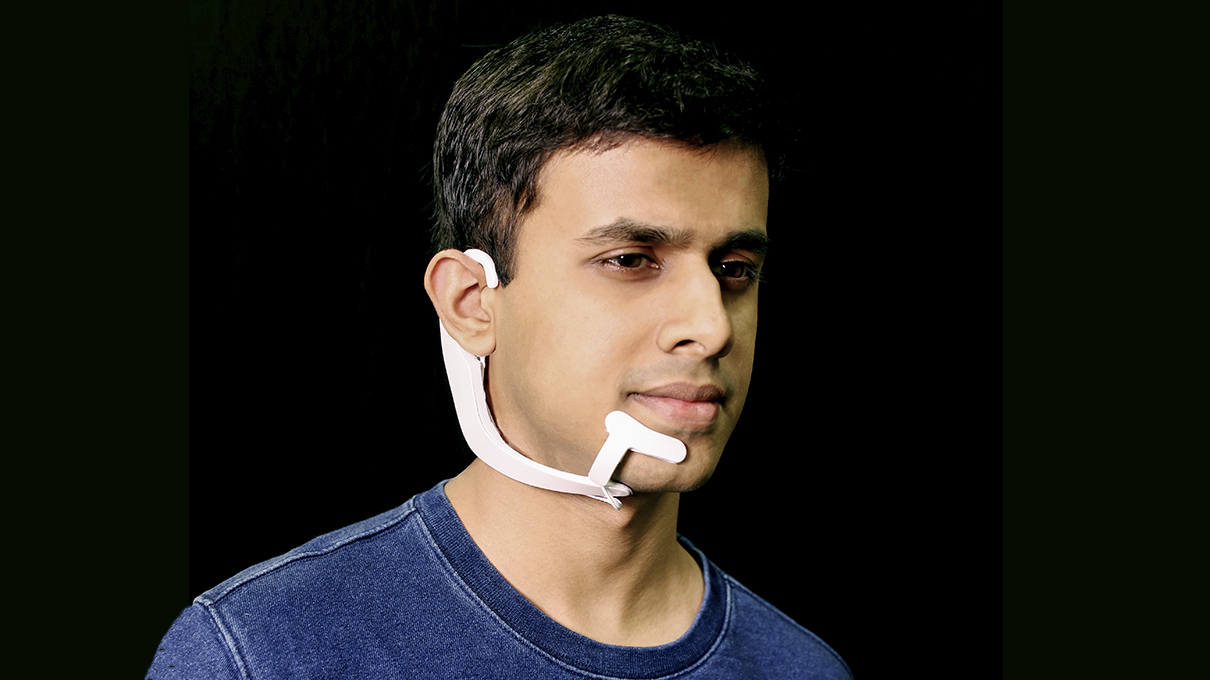 Up Next
MIT's AlterEgo allows people to control computers without ever uttering one word. HowStuffWorks looks at how this could change the way we communicate.
---
Author's Note: 10 Unconventional Uses for GPS
For much of my journalism career, I navigated around the country using old-fashioned paper road maps, the sort that would gradually turn into coffee-stained, wrinkled origami sculptures from being crumpled and stuffed into my briefcase or tossed under the passenger's seat enough times. I grew surprisingly adept at reading the tiny print and tracing faint blue lines, and retaining an image of that information in my working memory as I drove. These days, though, I use the GPS chip and a map app on my iPhone, which instructs me on each turn in a calm yet authoritative female voice. That usually works pretty well, but somehow, I felt more in control when I was reading the maps myself.
Related Articles
Sources
Associated Press. "GPS Technology Protecting Baby Jesus." Cbslocal.com. Dec. 4, 2010. (July 19, 2014) http://newyork.cbslocal.com/2010/12/04/gps-technology-protecting-baby-jesus/

Bains, Lee. "8 Weird GPS Devices." Switched.com. June 1, 2009. (July 19, 2014) http://www.switched.com/2009/06/01/8-weird-gps-devices/

Brandon, John. "Six Innovative Uses for GPS." TechHive. June 23, 2007. (July 19, 2014) http://www.techhive.com/article/133361/article.html

Caldwell, Dave. "Modern Treasure Hunts for the Whole Family." New York Times. Dec. 9, 2010. (July 19, 2014) http://www.nytimes.com/2010/12/10/technology/10geocache.html?module=Search&mabReward=relbias%3Ar%2C%7B%221%22%3A%22RI%3A9%22%7D&_r=0

CNET. "Nine fun things to do with your GPS device (photos)." Cnet.com. Dec. 18, 2009. (July 19, 2014) http://www.cnet.com/pictures/nine-fun-things-to-do-with-your-gps-device-photos/5/

Crop Nutrition. "Soil Sampling." (July 10, 2014) http://www.cropnutrition.com/efu-soil-sampling#overview

DC Rainmaker. "Fun with a Garmin GPS while running on cruise ships at sea." Dcrainmaker.com. Aug. 2, 2011. (July 19, 2014) http://www.dcrainmaker.com/2011/08/fun-with-garmin-gps-while-running-on.html

DVice.com. "NYPD baiting pill bottles with GPS tags to track stolen painkillers." DVice.com. Jan. 17, 2013. (July 19, 2014) http://www.dvice.com/2013-1-17/nypd-baiting-pill-bottles-gps-tags-track-stolen-painkillers

Florida Today Staff. "Shark Katharine departs Gulf of Mexico." Florida Today. July 17, 2014. (July 19, 2014) http://www.floridatoday.com/story/news/local/environment/2014/05/11/great-white-shark-katharine-lingering-off-brevard-coast/8967911/

Garmin. "What is GPS?" Garmin.com. (July 20, 2014) http://www8.garmin.com/aboutGPS/

Goldstein, Joseph. "Police to Use Fake Pill Bottles to Track Drugstore Thieves." New York Times. Jan. 15, 2013. (July 20, 2014) http://www.nytimes.com/2013/01/16/nyregion/ny-police-to-track-drugstore-robbers-via-decoy-bottles.html

Gps.gov. "Frequently Asked Questions." Gps.gov. Feb. 11, 2014. (July 20, 2014) http://www.gps.gov/support/faq/

GTXCorp. "GPS SmartSoles: The Next Big Step." Gtxcorp.com. (July 19, 2014) http://www.gtxcorp.com/platform/products_and_services

Guizzo, Erico. "How Google's Self-Driving Car Works." IEEE Spectrum. Oct. 18, 2011. (July 19, 2014) http://spectrum.ieee.org/automaton/robotics/artificial-intelligence/how-google-self-driving-car-works

Jauregui, Andres. "Baltimore Biker WallyGPX Makes 'Angry Birds' GPS Art." Huffington Post. April 18, 2012. (July 19, 2014) http://www.huffingtonpost.com/2012/04/18/baltimore-biker-wallygpx-makes-angry-birds-gps-art_n_1435343.html

Kaiser, Tiffany. "Study: GPS Units Cause Memory and Spatial Problems." Dailytech.com. Nov. 16, 2010. (July 20, 2014) http://www.dailytech.com/Study+GPS+Units+Cause+Memory+and+Spatial+Problems+/article20169.htm

Leach, Anna. "NHS unfurls condom app – for iPhone-toting teens." Theregister.co.uk. Jan. 31, 2012. (July 19, 2014) http://www.theregister.co.uk/2012/01/31/kent_iphones_will_stop_teenage_pregnancies/

Lee, Jolie. "Despite More Great White Sharks, Attacks on Humans are Rare." USAToday. July 9. 2014. (July 20, 2014) http://www.usatoday.com/story/news/nation-now/2014/07/07/california-shark-attacks-great-white/12283761/

Lindstrom, Martin. "Shopping Carts Will Track Consumers' Every Move." Harvard Business Review. Dec. 9, 2011. (July 20, 2014) http://blogs.hbr.org/2011/12/shopping-carts-will-track-cons/

Liston, Barbara. "Researchers track migration of great white shark around Florida." Yahoo! News. June 2, 2014. (July 19, 2014) http://news.yahoo.com/researchers-track-migration-great-white-shark-around-florida-213315476.html

LiveViewGPS. "GPS Tracking Device Alerts of Great White 5 Miles Offshore." Liveviewgps.com. March 11, 2014. (July 19, 2014) http://www.liveviewgps.com/blog/gps-tracking-device-alerts-great-white-5-miles-offshore/#sthash.62vkB7X6.dpuf

Lovelace, C.J. "Boonsboro area to host "Super Bowl' of geocaching next year." Heraldmailmedia.com. July 18, 2014. (July 19, 2014) http://www.heraldmailmedia.com/news/local/boonsboro-area-to-host-super-bowl-of-geocaching-next-year/article_6b52c77e-b893-5dd2-812e-6386885f7f2c.html

McNicoll, Arion and Glass, Nick. "Future of transport is self-driving cars, says GPS inventor." CNN. June 7, 2013. (July 19, 2014) http://www.cnn.com/2013/06/07/tech/self-driving-cars-inventor-gps/

Mearian, Lucas. "Forget Shark Week: Researchers tag n' track great whites." Computerworld. Aug. 28, 2013. (July 20, 2014) http://www.computerworld.com/s/article/9241939/Forget_Shark_Week_Researchers_tag_n_track_great_whites

Mohler, Brendan. "Move over Shot Tracker. Here's an app that lets you map out your round like a tour pro." Golf Digest. April 18, 2014. (July 19, 2014) http://www.golfdigest.com/blogs/the-loop/2014/04/a-app-that-works-like-your-ver.html

Pennington, Bill. "A Caddie in Your Pocket, or on Your Belt." New York Times. May 27, 2012. (July 19, 2014) http://onpar.blogs.nytimes.com/2012/05/27/a-caddie-in-your-pocket-or-on-your-belt/

Price, Jay. "NC project exposes the secret life of cats." Newsobserver.com. July 11, 2014. (July 20, 2014) http://www.newsobserver.com/2014/07/11/4000595/nc-project-exposes-the-secret.html

Rice, Carolyn. "GPS: From launch to everyday life." Bbc.com. Feb. 14, 2014. (July 20, 2014) http://www.bbc.com/news/technology-26153506

Schiller, Ben. "Hiding GPS Inside Shoes To Keep Track Of Wandering Alzheimer's Patients." Fastcoexist.com. Feb. 7, 2014. (July 19, 2014) http://www.fastcoexist.com/3025268/hiding-gps-inside-shoes-to-keep-track-of-wandering-alzheimers-patients

Shapiro, Jeff. "Saving Jesus: GPS Tracks Stolen Jesus Figures From Nativity Scenes." Christian Post. Dec. 3, 2011. (July 20, 2014)http://www.christianpost.com/news/saving-jesus-gps-tracks-stolen-jesus-figurines-from-nativity-scenes-63894/

Sun, Leo. "Google Plans to Launch 100 Driverless Cars by Next Year." Motley Fool. May 30, 2014. (July 20, 2014) http://www.fool.com/investing/general/2014/05/30/google-wants-to-launch-100-driverless-cars-by-next.aspx

Thomas, Emily. "Parents, This Gadget Is More Than Just A Colorful Watch For Kids." Huffington Post. March 18, 2014. (July 20, 2014) http://www.huffingtonpost.com/2014/03/18/child-gps-watch-hereo-app_n_4980465.html

WallyGPX. "Welcome to WallyGPX.com...The Online Home of my Virtual Geoglyphic Adventures!" Wallygpx.com. (July 19, 2014) http://www.wallygpx.com/

Arachne.org.au. "Austrarchaea raveni Rix and Harvey, 2011 D'Aguilar Range Assassin Spider." Arcache.org.au. (July 6, 2014) http://www.arachne.org.au/01_cms/details.asp?ID=2131